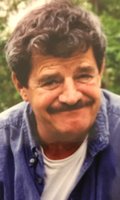 Bob Burke
Wayland - Robert "Bob" Leo Burke, age 85, passed peacefully on December 19, 2018, from esophageal cancer at the Vincent House in Wayland.
Bob was born in Binghamton, New York on October 28, 1933 to Joseph L. and Helen M. (Dilley) Burke.
Bob enlisted in the U.S. Navy a few months shy of his eighteenth birthday and served proudly from March 27, 1951 to August 11, 1954. Following his honorable discharge, Bob became a metallurgist and executive within the same company for many years. His work relocated him and his growing family from New York to California, Massachusetts, Michigan, and Connecticut.
He loved his family, animals, photography, videography, carpentry, fishing, being outdoors, and reading. An extremely skilled wood-worker, Bob created furniture, shelving, cabinets, birdhouses, and more. He enjoyed describing how each dovetail joint came together or why a particular piece of oak was chosen for a specific project.
Bob is preceded in death by his beloved wife of 63 years, Wanda J. (Hitt) Burke, his parents, and his half-brother, Paul R. Dilley. Bob leaves his five children, Robin L. Burke of Connecticut, Kathleen M. (Burke) Gamble of Florida, Joseph E. Burke of Florida, Melinda A. Burke and her wife Linda Strom of Vermont, and Peggy (Burke) Kelly and her husband Stewart of Massachusetts, his grandchildren, Karyn M. Gamble, Kory A. Gamble, Kaitlin M. Kelly, and James R. Kelly and great-grandchildren.
Bob is also survived by his beloved siblings and their families: brother John J. Burke and his wife Shirley of California, brother James E. Burke of Idaho, and sister Helen M. (Burke) and her husband Chet Howland of California. Additionally, Bob is survived by niece, Patricia Martinez of New York, sister-in-law Peggy (Hitt) Dowdell, and nieces and nephews of New York; James Greenmun and his wife, Lisa of New York, Chris Greenmun of New York, James and Gail Greenmun of Florida, and Reid Greenmun of New York.
The family would like to thank the staff and caring volunteers of the Vincent House of Wayland, New York for their compassion, love, and support. In lieu of flowers, please consider making a donation to the Vincent House, 310 2nd Avenue, Wayland, NY 14572