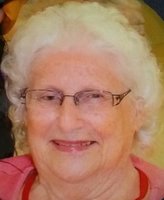 A. Marie (Domm) Frew
Wayland – A. Marie (Domm) Frew, 89 years of age, passed away Tuesday morning, February 5, 2019 at the Hospeace House in Naples.
Marie was born January 9, 1930 in South Bristol, the daughter of Albert and Ruth (Wolfanger) Worden. Marie grew up in the Naples area and resided there for over 38 years. Marie and George Frew were married May 19, 1984 and together they celebrated over 29 years of marriage prior to George passing away in November of 2013. In 1986, Marie and George moved to Wayland where they resided until Marie moved to Canandaigua due to health reasons 5 years ago.
Marie sold Avon products for many years and was employed at the Gunlocke Company in Wayland, retiring in 1986. She loved to play cards and gamble as she travelled to Las Vegas several times and enjoyed scratch off lottery tickets. Marie was also a charter member of the Ladies Auxiliary of the Maxfield Hose Company in Naples.
Marie was pre-deceased by her parents, Albert and Ruth Worden; her husband, George Frew; her son, Edward Domm; her step-daughter, Sheralee Frew; and her brother-in-law Richard Wilcox. She is survived by her son, David (Sharon) Domm of N. Cohocton; her grand-daughters, Michelle Domm (Jerome Dambois) of Atlanta and Nicole (Jason) Cansdale of Cohocton; her great-grandchildren, Ryan Damboise, Caleb Cansdale and Josclyn Cansdale; her step-children, George Frew, of Avon, Daniel Frew of Mt. Morris and Judy Delandro of Chili; her siblings, James (Bernice) Worden of Prattsburg, Roger Worden of Bristol Valley and Beverly Wilcox of Naples; special nieces, Tracy Lynn Smith of Canandaigua and Jody Lynn Romieser of Bristol; along with several other nieces and nepehws: and a special thanks to the Daniel and Bonita Mclure family.
Marie's family and friends may call Sunday from 1-4 pm at the St. George-Stanton Funeral Home, 109 West Naples St., Wayland. Marie's funeral service will be conducted Monday at 11am at the funeral home with the Reverend Osceola Wharton officiating. Interment will be private at the Village Cemetery in Wayland. Contributions in A. Marie (Domm) Frew's memory may be made to the Hospeace House, 7824 County Rd. 33, Naples, NY 14512 or to the Vincent House, 310 Second Ave., Wayland, NY 14572.