St. George-Forsythe Funeral Homes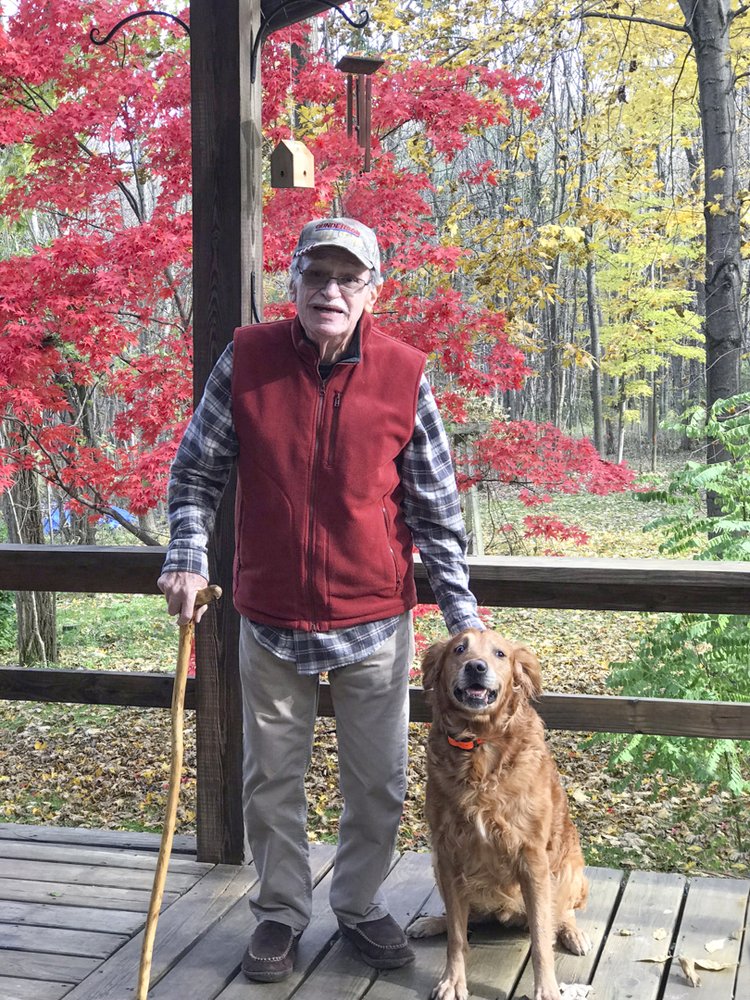 Obituary of Laurence E. Delaney
Born on November 11th in 1942 in Cleveland, OH Laurence Edward Delaney entered into this world full of mischief and humor, much to the exasperation of his parents Walter and May.
Larry was the ringleader of his siblings, teaching brothers Dennis, Brian and Paul and sisters Mary and Renie, invaluable lessons like how to escape from their attic bedrooms by shimmying down the gutters or showing them what happens when you rig up your RC airplane to see if the family kitten could fly. They really missed that kitten…. (Last seen soaring over the tops of the pine trees and gaining altitude).
At St Edwards, he ran the Holy Cross brothers ragged; performing magic and sleight of hand tricks while serving as altar boy at 5 am Mass or stealing the clicker prompt for cueing the congregation on when to stand and when to kneel. The "St Ed's boys" still get together every year to retell the tales of their collective childhood and the tales get taller and taller as the years go by.
As a young man while working as a traveling salesman he met a beautiful college student named Catherine Harrison. Since she was his soulmate, he married her on a festive yet snowy December 24, 1966 at St. Patrick's Church in Chittenango, NY. One thing led to another and together they had a son; and then a daughter. Larry went back to school to earn a Bachelor of Science degree in Respiratory Therapy so that he could make a better life for his family. He quickly became department head at Noyes Memorial Hospital in Dansville and later at St. Mary's Hospital in Rochester.
On weekends you would often find Larry and his son Patrick waist deep fly fishing in a riffle and hoping for a bite, in a duck blind trying to imitate the call of a wayward mallard, up in a tree on cold November days hoping to surprise a buck, or pranking each other by sneaking bear poop into each other's shoes. He trained his Golden Retrievers for competing in hunting field trials, dabbled in woodworking; making homemade wine and whiskey; was a consummate storyteller, and taught his daughter Deirdre to tell puns almost as bad as his. He was a faithful member of Holy Family Catholic Community and the Knights of Columbus.
Larry was pre-deceased by his parents, Walter and May Delaney; his son Patrick Delaney in 2013; his brother Dennis Delaney in 2014; and infant brother, Joseph Delaney. He is survived by his wife Catherine Delaney of Dansville; his daughter Deirdre (Robert) Thompson of Portland, OR; his grandchildren, Bailey and Reilly; siblings, Brian Delaney of Lakewood, OH, Mary Delaney of Lakewood, OH, Renie (Paul) Miller of North Olmsted, OH and Paul (Tracy) Delaney of Milwaukee, WI; his brother in law, Charles Harrison of Livonia; several nieces and nephews; and his dear friends, Mark and Kelly Matteson of E. Rochester.
Larry's family would like to invite friends to attend a Mass of Christian Burial on Saturday June 22, 2019 at 10am at St. Mary's Church in Dansville and for food, drink and sharing stories afterwards at the Union Hose.
Contributions in memory of Laurence "Larry" Delaney may be made to Livingston County Hospice, 2 Murray Hill Drive, Mt Morris, NY 14510.
Mass of Christian Burial
Saturday June 22, 2019 10am St. Mary's Church, Dansville, NY
Share Your Memory of
Laurence

About Us
Please feel free to browse our pages to learn more about pre-planning a funeral and grief support, as well as the traditional funeral and cremation services that we have to offer.

Contact Us

Location Info

109 West Naples Street
Wayland, NY 14572

Phone : (585) 728-2100

Monuments